Stepped vs. Level Premiums
So you're thinking about taking out or updating your insurance policy, great! You're half way there! Unfortunately, however, it is not the easiest process and there are minute details that need to be considered to ensure you aren't paying more than you need!
When applying for insurance products such as life, total and permanent disability and trauma cover, the most common question that will be asked is whether you are wanting to choose stepped or level premiums. The difference is important to understand as it will affect your premium repayments that are needing to be paid.
Stepped Premiums
With stepped, your insurance premiums will continually increase each year. The logic behind this process is that as you get older, you are statistically more likely to make a claim. These have lower up-front costs, however increase significantly with age.
Level Premiums
In comparison, level premiums are constant throughout the life of the insurance policy, however tend to be more expensive in the beginning. This can also help achieve a peace of mind for yourself, knowing the exact figure that you are required to pay.
Here is a graph that explains the difference between the two.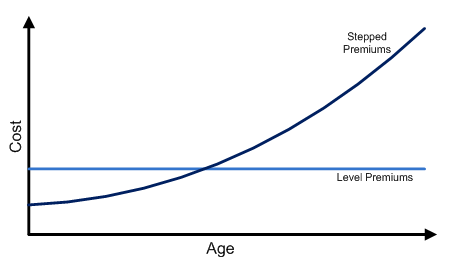 Tips
• The premium that you choose will depend on your circumstance at the time of taking out the cover
• The required duration of the policy is the most important factor in determining which premium is more suitable to your needs.
• In general, you are best to consider level premiums if looking to take out the cover for a long period. Please note that at the age of 65 or 70 (depending on your cover), the level premiums will automatically transfer to stepped.
• In comparison, an intent to hold the policy for a short period (eg. Starting a policy at aged 50) would be most cost effective with the stepped premium.
Traps
• Level premiums can be adjusted and increased based on inflation or altering insurance fees (based on your provider)
• Ensure that you are aware of all the terms and conditions of your agreement as each provider is different. Read the PDS document carefully.
• Despite the generalization of age determining the premium you take, there are still many other factors to include in your decision. It is best to speak with an adviser or a professional to discuss the best option for you.