What's the cost of financial advice?
The cost of obtaining financial advice will vary depending on the complexity and nature of the advice. When it comes to seeking advice, it is important to ensure you conduct some independent research and planning prior to meeting with an adviser so that you understand what it is you are trying to achieve, and you can articulate this to the adviser.
Types of advice
Advice is usually either holistic or scoped. Holistic advice considers most aspects of your personal and financial circumstances and is likely to be linked to long-term goals. This form of advice may also be more complex depending on what stage you are at in life and your level of wealth. Some individuals may be looking to save up for a house deposit and others may want to secure a comfortable retirement of $100,000 per annum, and therefore this will significantly change the nature of the advice.
Conversely, scoped advice is usually based on a short-term goal and is more specific such as starting an investment account or obtaining certain personal insurances like income protection. If you are on a budget, this is likely to be the most appropriate form of advice to seek. However, if you have an informed and solid foundation of financial knowledge you may be able to do some of the leg work yourself in conjunction to seeking scoped advice, which can help save you a bit of cash. If you would like a complimentary 20-minute phone call to ascertain whether an EPG Wealth adviser can assist you with your short or long-term goals, click here.
Seeking advice
The first thing you will need to do is meet with a few advisers and interview them to ensure you find the right one that clicks with you. The first meeting may be complimentary; however, some advisers will charge a fee for the first meeting. It is vital that you conduct all the necessary checks to establish whether the adviser has the relevant experience, qualifications, and licensing to service you as a client. You may also want to conduct some primary research such as reading online reviews and testimonials as a good reputation is part of the package. It is also crucial that you obtain their FSG (Financial Service Guide) which is a document that contains all the relevant information about the adviser and the licensee they trade under. This will assist you in making a more informed and educated decision prior to engaging with an adviser. To read the FSGs of EPG Wealth
The cost of advice should also be discussed before making a final choice as this may be a key variable when making your decision. An adviser should be able to provide a clear idea of the total upfront and ongoing costs of receiving their advice. If they are not transparent and you are left feeling confused, this is a good indicator that you should reconsider your options.
Once you have found the right adviser for you, they should conduct another meeting to ensure all the relevant information is gathered so that they have a comprehensive understanding of your personal and financial position. Once this has occurred, the adviser will use their expertise to produce a Statement of Advice (SOA) that will outline the relevant strategies and investment recommendations required to achieve your goals.
Types of Fees
Fixed Fees
The first upfront cost will be the SOA. This fee will vary from $800 to $10,000 depending on the adviser's experience as well as the scope and complexity of the advice. It is a good idea to investigate the adviser's fee structure as a cheap upfront could mean you are paying more ongoing or hidden fees elsewhere. Therefore, a one-off fee of $800 could mean you are making up the cost every year by paying a percentage-based fee which is charged based on the total value of your portfolio. Hence, this could be costing you tens of thousands of dollars over many years as the investments in your portfolio grow.
The graph below depicts the average and median client fees based on the industry from 2018-2020 and reflects an increase in fees over time due to stock market growth and the cost of the pandemic.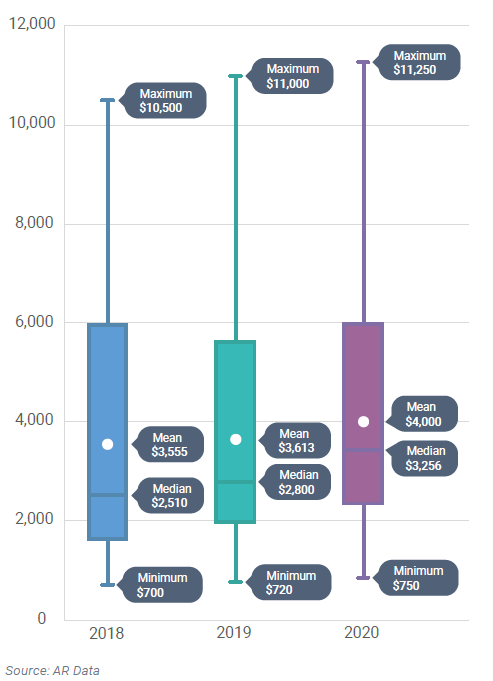 The average cost of producing a Statement of Advice is estimated to be about $6,500 which justifies the reason why advisers need to charge an average fee of at least $3,500 per client.
The chart below shows the fees structure of financial advisers in Australia in 2020 and highlights the increase in the fixed-fee model.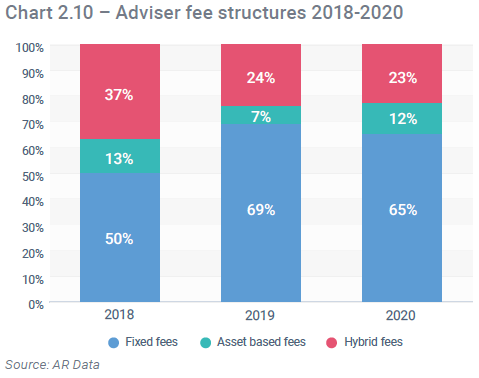 Once your adviser has finalised and presented the Statement of Advice to you, and you wish to proceed, you may need to pay an implementation fee. It should be noted that not all advisers charge this fee but whether they do will be contingent on the fee model they follow. For example, if an adviser does not take commissions on insurance, they may charge you an implementation fee instead to action the recommendations they have made.
A financial adviser should be able to recommend you a comprehensive insurance policy with the right amount of cover without charging you a commission. Thus, you may want to re-evaluate the level of cover you require and investigate whether your current adviser is taking a commission from the premiums you are paying as this could be racking up exponential costs in the long run.
Below is a comparison of the cost of insurance premiums with and without commissions that are generally taken by advisers. The figures below assume the client A is a 33-year-old male (non-smoker), earning approximately $220,000 p.a. and requires $1,000,000 cover of life, total permanent disability, and $13,750 per month of income protection. If this client were to hold a policy from insurance company A for a period of 10 years, they would end up paying an additional $10,131 in premiums.
Client A:
Please note that the figures do not constitute advice and are indicative only.
Similarly, below is the cost of insurance premiums assuming the client is a 40-year-old female (non-smoker), earning approximately $200,000 p.a. and requires $1,500,000 cover of life, total permanent disability and $12,500 per month of income protection.
Client B:

Please note that the figures do not constitute advice and are indicative only
If client B were to hold a policy with insurance company A for a period of 10 years, they would end up paying an additional $14,178 in premiums. Therefore, these comparisons show that there are substantial savings when advisers do not take commissions on the insurance policies they recommend and hence this should be a primary consideration when engaging with an adviser. Therefore, although no implementation fee may be more appealing at the outset, this is likely to be an insignificant amount in comparison to the additional fees and premiums you will pay due to these commissions.
EPG Wealth is one of the only financial advice firms in Sydney that does not take any commissions on insurance. If you would like to receive an analysis of your current personal insurances to determine your potential savings, click here.
Ongoing Fees
Furthermore, depending on your personal circumstances, level of knowledge, discipline and your level of involvement, you may require ongoing advice. Ongoing advice may be based on a flat fee charged according to time or complexity or a percentage based fee calculated on the amount you have invested.
Fee for Ongoing Advice:
Due to the increasing costs of providing advice in the last few years due to the Financial Services Royal Commission, many advisers must be more selective with the clients they choose to service. It has been suggested that the average industry revenue per client sits between $3,500-$3,700 per annum due to a rise in compliance and licensing costs which are then passed onto clients.
However, if you have a good foundation of knowledge in the field of financial affairs and have the required discipline using a hybrid model where you only pay for what you use or seek advice at an hourly rate, may be a highly suitable option for you. The only issue you may wish to consider is that this does not include proactive advice and therefore you must be able to monitor your own financial affairs, otherwise, it can become a minefield and things can go terribly wrong, very quickly.
The ongoing advice fee will also depend on the investment products and assets classes you choose to invest in to achieve your goals. In today's market, there is a wide range of different products that can assist; however you need to know what you are doing and what each of these products can do for you. In these circumstances, you may only require initial advice, and once you understand the fundamentals of your finances, any further advice can be charged at an hourly rate where required. For a clear and concise breakdown of EPG Wealth's fee structure and to see where you fit, click here.
The bottom line is that you need to be honest with your level of knowledge and comfort. If you don't feel you have the time, knowledge, and discipline to do it yourself, seeking help from a professional may be an extremely rewarding decision. The most important thing is that you act today and do not put your finances in the too hard basket as this will eventually catch up to you and the missed opportunity will never be recovered. If you have been side-lining your financial welfare and wish to do something today, click here to receive a complimentary 20-minute phone call with an EPG Wealth adviser to see if we can assist you.