What are the benefits of co-owning a property?
You may be interested in investing in or purchasing property but are not able to fund the purchase of an investment property or principal place of residence on your own. Co-Ownership has become a popular way for Australians to get a foot in the property market with around 4 out of 5 Australians choosing to purchase a property with someone else; most commonly siblings. If this is you, you may wish to consider the different ways in which you can co-own property and the respective benefits of each. The article below will weigh up the potential benefits and difficulties associated with property co-ownership.
What is co-ownership?
Co-ownership refers to when two or more people share ownership of a property. This can occur under one of two legal relationships, namely a joint tenancy or a tenancy in common, whereby each relationship has its own legal and financial implications. A tenancy in common occurs where two or more people co-own property and hold defined shares (e.g., 60/40) and commonly arises in situations where the parties have contributed different amounts of the purchase price.
Conversely, a joint tenancy is another form of co-ownership which allows two or more people to co-own a property, however, carries the power of the right of survivorship. This means that if one of the joint tenants dies, their share in the property automatically passes to the remaining joint tenant., irrespective of what is set out in the deceased's will. This differs from a tenancy in common whereby if one party dies, their property will be inherited according to their estate plan or will in place.
Advantages and Disadvantages of Co-Ownership:
Before deciding to pool your money together with your partner, brother, sister or friend, it is essential that you consider all the pros and cons of each legal relationship.
Advantages:
Owning a property with another person has many advantages and may make property ownership a more realistic and attainable option. The first benefit of co-ownership is that it makes buying a home or investment property a more affordable option as it allows both parties to pool their money together to fund the purchase of the property. Having additional funds available to you also increase your borrowing power and your ability to obtain a home loan as a result. Another advantage of co-owning property is that it can reduce the numerous upfront costs individuals are often faced with including stamp duty, conveyancing and legal costs, mortgage insurance and property maintenance. To read more about the different costs involved in homeownership, click here.
Another advantage of co-ownership is that potential buyers are still able to take advantage of Government programs such as the First Home Buyers Assistance Scheme in NSW. This provides first home buyers with the opportunity to receive a full or partial exemption from paying stamp duty. However, in order to be eligible for this benefit, a new property must be valued at less than $800,000 or an existing home valued at less than $650,000.
The table below shoes the thresholds which must be met: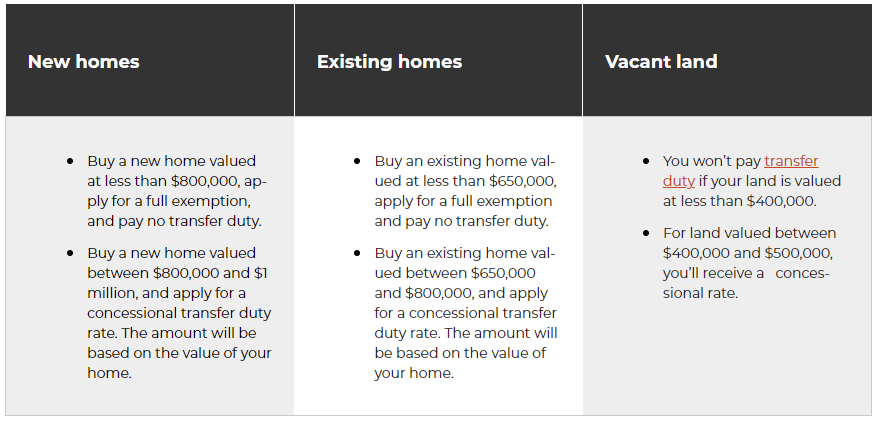 The main benefit of holding property as a tenant in common is the increased flexibility associated with this form of ownership. Each party has a legal right to sell their share, borrow against it or pass it on free of any other constraints, and therefore is often the most attractive form of ownership for friends or siblings.
Disadvantages:
It should be noted that both owners are jointly liable for the mortgage, irrespective of their share in the property. Therefore, you will be wholly liable if your co-owner defaults on their portion of the mortgage repayments even though you only hold a 50% share in the property. It is also important to consider that you may encounter disagreements and disputes with your co-owner, including when to renovate the property, who should pay for what bills and utilities and potentially when each party wishes to sell.
Another disadvantage of co-ownership is that one party may wish to sell the property in the unfortunate event of a relationship breakdown. Unless it is specified, upon registration of the property the law will assume that the co-owners are joint tenants. This could result in additional stress in the event of a relationship breakdown as the entire share in the property must be sold to a third party or one tenant must transfer their share to the remaining tenant. Therefore, it is crucial to determine and agree on the type of co-ownership that will take place prior to borrowing funds and purchasing a property.
Co-Ownership Agreements:
In order to combat these potential difficulties you may encounter when co-owning a property, it is a good idea to devise a co-ownership agreement with a lawyer. Failing to do this may end up costing you additional money down the track in the event you encounter an irreconcilable disagreement which could potentially even end in a lawsuit. A co-ownership agreement should include the following:
Details of ownership percentage – who gets what share
How the mortgage/property will be paid for
Management and contribution to expenses
Maintenance and repair
How long the property will be held for
How one party can exit the co-ownership agreement and sell their share
Dispute resolution
Approval of additional or new tenants in common
What to do in the event of foreclosure or personal bankruptcy
In summation, there are both advantages and disadvantages when co-owning property and it is important that you weigh up both before diving into the property market. If you don't think this is the kind of investment for you, click here to organise a complimentary 20-minute phone call with an EPG Wealth adviser to determine the right investment strategy for you.